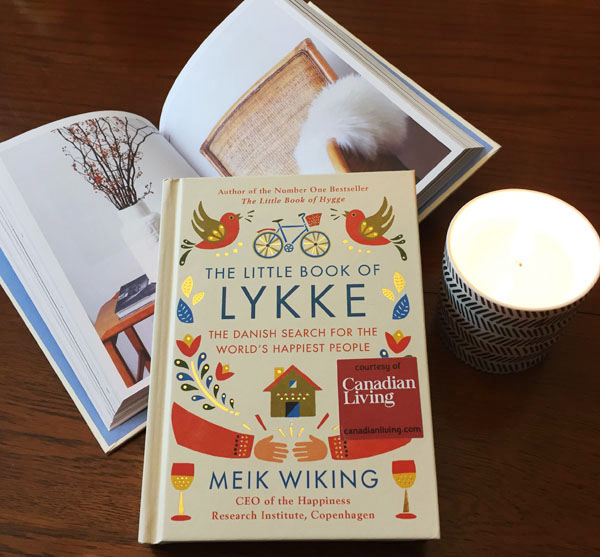 My Little Blog of Lykke
Posted on
October 31, 2017
'What are we holding on to Sam?'

'That there's some good in this world, Mr. Frodo.
And it's worth fighting for.' – J.R.R Tolkien
This is the opening quote of Meik Wiking's newest publication The Little Book of Lykke. I've been enjoying his previous book The Little Book of Hygge, which shares the Danish concept of everyday happiness and encourages the reader to focus on the simple pleasures in life – a wonderful reminder. So I am very eager to discover what he has to disclose about lykke (pronounced luuh-kah, and translates to happiness).
Let's back-track.
September was an emotional month. I had an ultrasound for two little lumps discovered just below my scar, and then an ultrasound-guided core biopsy of those lumps. The result was benign – joy!! But I ended up with a mild infection from the procedure, and as a result I have faced big set-backs in my mobility and flexibility – frustration! And then, two days after I received my fantastic news, I learned that my childhood friend has been diagnosed with breast cancer and is at the start of her journey. It devastated me. I am wracked with worry, guilt, fear, and angst. I feel, daily, that I am on the verge of tears and I can't shake this bleakness. I feel lost in despair.
Fast-forward.
Last night I stepped far out of my comfort zone. I attended an Evening with an Author. It was the first time I ever attended an event such as this, and more importantly, attended on my own – by choice. I could say the whole experience was destined to occur, without me consciously knowing it. You see, a couple of weeks ago I randomly picked up a Canadian Living magazine while waiting in line to purchase my groceries and I added the magazine to my purchases – something I truly never do – all because I spotted a shortbread recipe I wanted to try. After returning home, making a latte, and cozying up on my couch, I picked up the magazine and began to skim through the pages. I stumbled upon the Book Club section. A non-fiction book The Little Book of Lykke by author Meik Wiking, CEO of The Happiness Institute in Denmark, popped out at me from the pages. I thought 'Wow, I really need to read that!' We can all use some happiness in our lives, as well as tips to rediscovering happiness. And with the tumultuous emotions I've been riddled with of late, I really needed some insight into achieving happiness. I needed to be reminded of happiness. Then I turned the page and saw the advertisement for tickets to an up-coming event 'An Evening with International Bestselling Author and Happiness Expert Meik Wiking'. I immediately bought a ticket.
Meik Wiking was personable and charming. He talked easily and passionately about happiness. He touched upon the key pillars to happiness: togetherness, health, money, freedom, trust, and kindness. It was enlightening and, at times, reaffirming to hear his discoveries, his insight, and his observations. One point he made was that health greatly affected happiness. This is true. But, I also have a unique perspective on this – perhaps not entirely unique – but an experience that made my journey with breast cancer far more bearable than I could have ever imagined. When I think back to the summer of 2015 I cannot ignore the extreme emotions of gratitude and happiness I felt because of the incredible amount of support and kindness I received from so many amazing individuals. It was almost as though my diagnosis brought together a huge community of people from various moments in my life – childhood friends, past and present work colleagues, new friends, acquaintances, and family, as well as complete strangers that just wanted to help. I was – and still am – overwhelmed with gratitude. It was truly eye-opening for me to bear witness and receive such acts of giving, caring, kindness, and togetherness. I was [I am] blessed.
'Happiness comes from knowing that we are part of something bigger – part of a community – and that we are all in this together.' – Meik Wiking
I never felt alone. I never felt like I was fighting the fight on my own. I had a community protecting me, watching out for me and for my family, and it still brings tears to my eyes. I hold on to that memory – that feeling of togetherness – and it fills me with happiness.
It is from witnessing this incredible movement of kindness that I have faith in the world. I think there is good and I do think it is worth fighting for. Simple acts of kindness go a very long way. I've been a recipient of it, and I gift it forward as often as I can. Because kindness is like a drug – it gives you 'helper's high'. It makes the person you are helping feel happy, and it makes you feel happy. It's true! As I mentioned, I attended last night's event on my own. Most everyone present was there with a friend, a partner, or as a group of friends, and there was only a handful of us who were flying solo. I was okay with that because I chose to go alone. I wanted to be open to the evening and the experience. While waiting in line to have my book signed by author Meik Wiking, I met a lovely lady named Heather. I enjoyed a bright and lively conversation with her throughout the social part of the evening, and then as we were leaving, I was able to offer her a ride to the subway station – there were no streetcars in sight and we were not in the best of neighbourhoods. It was a win-win, as I got to help her out, she got to the subway safely, and we got to enjoy each other's company a little bit longer. I may never see her again, and that's okay. I'm pleased that we shared a lovely conversation at this happy event, and it turned into a rather happy moment.
'These are not the days when we can afford to reach for fear, mistrust, and cynicism. They will never bring us towards a happier place.' – Meik Wiking
If I were to make a point out of all this rambling, it is that we can all do more to improve the quality of our own lives as well as the lives of strangers. Help one another; be kind to people; smile at strangers; take pleasure in little things; and invest in your community.
Be kind. Be thoughtful. Be present.
My Little Blog of Lykke. Published by Crystal Joy Hall