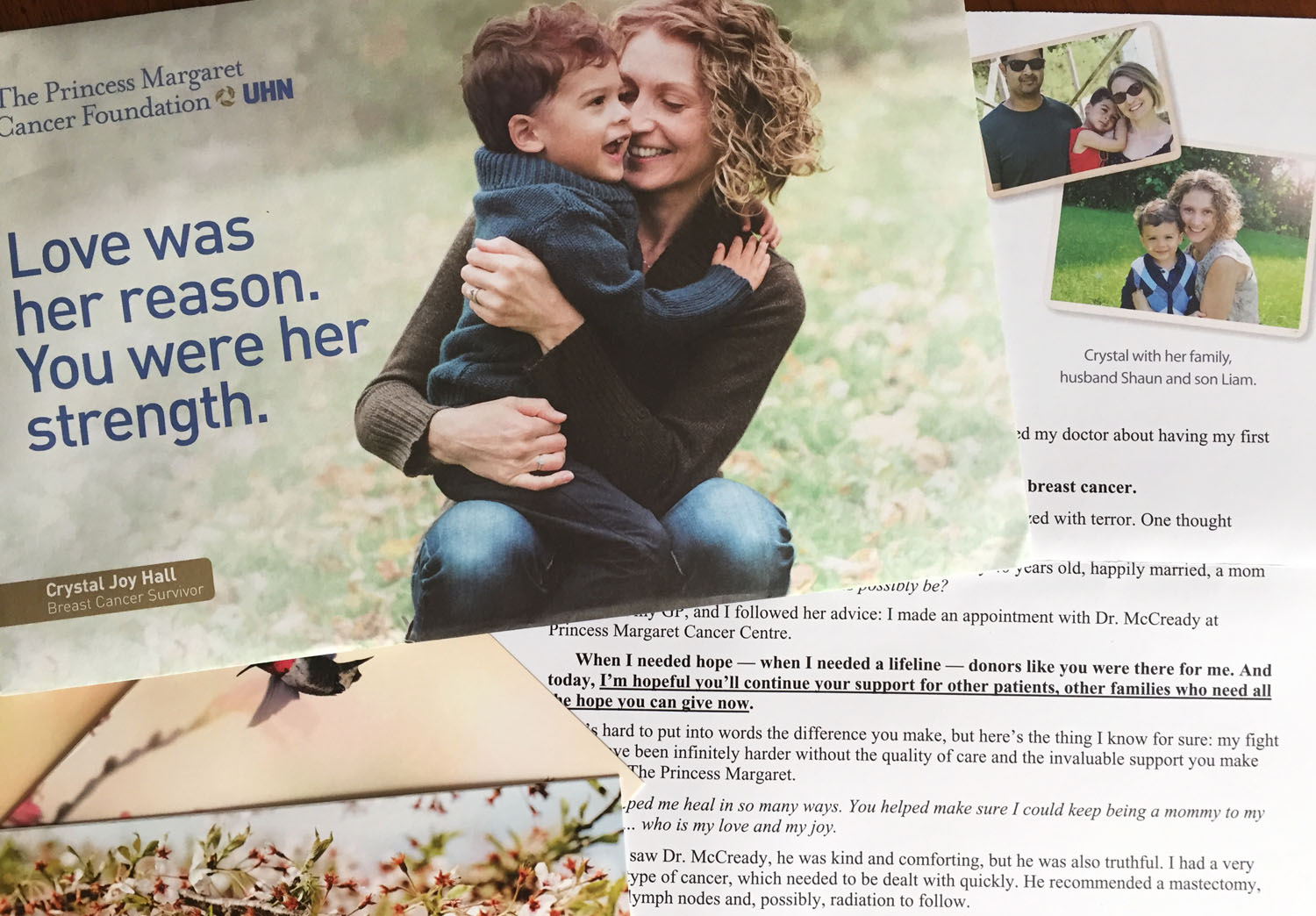 Spring Mail
In January of this year, I was approached by The Princess Margaret Cancer Foundation (PMCF) requesting if they could use my story as their feature for the spring mailing campaign. They outlined the requirements and provided details regarding the mailing. I was apprehensive. Sharing my story through blogging and online videos allowed some anonymity – sounds strange to say – but there are hundreds of blogs written by cancer warriors, why should mine stand out among the rest? I am another one of those hundreds, so that is why there is some anonymity behind blogging. And, to have my story be the focus for the spring mailing campaign where it would reach over 45,000 people was rather overwhelming, so I almost didn't do it. But then I thought – If my story can make a difference for someone else, why wouldn't I share it? It is the reason why I blog. I want to reach out to others, share insight, share hope, share vulnerabilities. I want to make a positive difference. So I said Yes.
The process was, without a doubt, very supportive and encouraging. The PMCF are outstanding when working with those impacted by cancer. It isn't surprising as it goes hand-in-hand with the care you receive when being treated at Princess Margaret Cancer Centre (PMCC) – impactful in the most monumental of ways. Sharing my story, in the manner required for the spring mailing, was difficult. I had to revisit some painful and frightening moments, but I maintained the courage to do so because I wanted to make an impact. I wanted to reach Donors, encouraging them to help if they can, and assuring them that their generosity DOES make a difference.
My breast cancer journey would have been fraught with exceptional challenges if the programs at PMCC did not exist. And, these programs exist because of Donors. The money given in good faith is used in the most valuable of ways. I relied on the Psychosocial Department to help me through my journey – the shock, the fears, the recovery – and I had a safe and nurturing environment within the hospital where I could leave my child while I attended my appointments. Magic Castle became an intricate part of my child's life. He attended the daycare for a period of 20 months, and to this day still talks about how he misses it. These are programs funded by Donors – programs desperately needed by those battling through cancer.
The process for the spring campaign wrapped up in March. I wondered if my story would inspire. I wondered if sharing my story would help.
Three days ago I received a letter. It was a letter sent to PMCF requesting that it be forwarded to me. In it, this beautiful person – this kind soul – expressed that my story moved him greatly, and because of that he was sending a donation to PMCF. He shared with me, sent blessings to me, and gave because of me. I am so moved by this. I am so grateful that this person was kind enough to read about my journey and reach out to me personally. I am thankful that he was inspired to give. It once again demonstrates the incredible amount of kindness that exists in this world.
We all experience trauma in our lives. We all experience grief, fear, and angst. But we also experience hope, and we also experience love, kindness, and goodwill. You can find light through the dark, because there will always be someone, somewhere willing to guide you through. You just have to open your heart and let it in.
Mr. CS I thank you, from the bottom of my heart for being a shining light in someone else's darkness.
Spring Mail. Published by Crystal Joy Hall