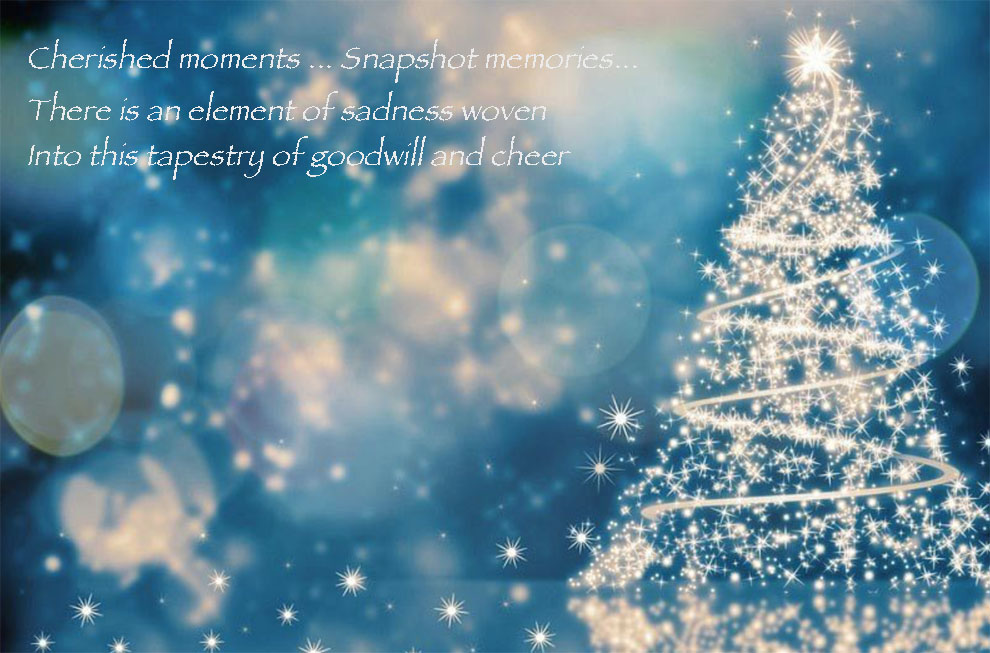 The Tapestry of Christmas
Posted on
December 20, 2018
I wish I had more time to write, but this whirlwind month has my head spinning and my heart aching. Christmas truly is a wonderful time of the year, but it always arrives with a little bit of nostalgia. We celebrate – we come together with those we love – but as time passes and we grow older we recognize the deep void left behind from those we have lost. There is an element of sadness woven into this tapestry of goodwill and cheer.
And this sadness has grabbed a hold of me. I know this, because of the roller coaster of emotions I find myself riding – yet again – I am Riding the Waves as I did last year. By reflecting on past Christmases and remembering those I have lost throughout my lifetime, it has me feeling acutely aware of my own mortality. And although this year that grave sense of loneliness I had felt after surviving cancer has subsided, the fear is still prevalent, hovering under the complex layers I have devised. The memory of the trauma is profound. In these darker moments I focus on breathing, allowing my breath to carry the calamity of emotions away from me, confident in the knowledge that this wave will subside and I will feel a sense of calm. Is this how my Grandmas, Grandpa, Great Aunts, and Great Uncles survived their darker moments while in the midst of their own battles with cancer?
I do not know. I never thought to ask.
Instead I lived life with them – laughing, being silly, being involved, and building memories. Even when they were fighting their gravest battles they laughed with me. They gave me cherished moments and snapshot memories that I am so grateful for. So as sad as I am feeling by the loss of these remarkable souls, I am so grateful for having that time with them. I keep the memory of my loved ones alive. I share their stories with my son; and as I listen to the Christmas music they introduced me to, I can close my eyes and allow the memories to wash over me. And though I may cry, I also cannot help but smile just a little.
And then I watch my own beautiful little boy; and I wonder how much does he know of my own cancer journey? He was very young, and though he knows his mommy was sick and the doctors had to fix her, we have never fully explained the disease. Am I doing him an injustice? At his tender age, I think not. But then today at breakfast he cried. I was shocked, and when I asked him what was wrong he replied "I'm sad because I won't see you this afternoon." I was speechless. All I could do was hold him. And it was only until then, in that moment while I held him close as he sobbed, that I realized how reluctant he has been to leave me of late – always wanting my attention; wanting to be at my side; constantly under my feet; and cuddling and holding me close. Does he feel separation anxiety more acutely than most children because of the raw and real memories that he, himself relives? I do not know, but if this time of year triggers turbulent emotions within me, then why not also within my son? Thinking back, I do remember how he struggled last Christmas. He was – just as I was – riding that wave of emotions.
And this makes my heart ache.
I have worked hard at being there for my son – creating warm and lasting memories for him to one day cherish. Because I want him to be able to look back through his life and know that he was loved and that he was special to me. I want him to know that he made me laugh; reminded me to be silly; and that being involved in his life was one of the greatest gifts I could have ever hoped for. I want him to smile.
And so within this Tapestry of Christmas goodwill and cheer, I celebrate with a little bit of sadness in my heart, hopefulness for the future, and gratitude for the present.
I celebrate with love.
The Tapestry of Christmas. Published by Crystal Joy Hall