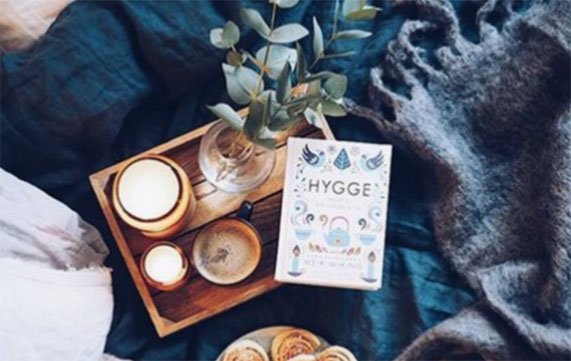 My Little Blog of Hygge
Posted on
October 30, 2018
It is autumn, and we are in full swing of the season – wet, dismal days and cold, bitter winds – but today is simply a beautiful one. The air is crisp and clean, the sun is sparkling, and the sky is radiating a brilliant autumn-day blue. Yes, it is still cold and bitter, but everything about this day feels absolutely perfect.
As I was walking home from dropping my little one off at school I could not help but stop, lift my face up to the sky, and breathe. Deep, glorious breaths that I felt all the way down to my toes. I looked around me, observing the leaves as they fluttered in the breeze – orange, red, yellow – the vibrant colours of autumn. I felt the warmth of the sun envelop me, taunting the crisp, cool air. I watched the clouds lazily drift across the sky and even caught a glimpse of the moon (which had not yet gone to bed – tsk tsk), and I thought to myself I am so grateful to be alive.
And I realized that this is hygge. Let me explain.
One year ago I read the best unintentional self-help book I could have chosen for myself. Meik Wiking, author of The Little Book of Hygge, delves into the key to happiness. As the CEO of the Happiness Research Institute in Copenhagen, who better than to explore happiness? He discusses hygge – which involves taking pleasure from the presence of soothing things; a coziness of the soul; and the art of creating intimacy. Throughout his book he examines how togetherness, atmosphere, food and drink, clothing, and light can elicit certain emotions and create an intimacy of the soul. And he goes beyond that. He offers suggestions, ideas, tips, and even recipes to help the reader explore hygge.
"Hygge is about an atmosphere and an experience, rather than about things." – Meik Wiking
Through taking the time to read the book, follow some tips, and simply muse over the abundance of information and observations provided, I began to reconnect with what truly mattered. I began to be mindful of being present in the moment, of shutting off my electronic devices, of taking time for my loved ones, of taking time for myself. I began to journal more, breathe deeper, and pursue the interests that make me happy. It is work, as it takes practice, time, and patience to relearn how to be present – to relax and take in the moment.
My greatest reminder came this summer, when gifted with the opportunity to spend a week at a cabin by the glorious French River. There was no cable, no internet, no phone…
"We were forced to live more simply and slowly. To get out. To get together. To enjoy the moment." – Meik Wiking
When we weren't busy building rivers, dams, and sandcastles at the beach with our little one, my husband actually sat and did crosswords, and I either wrote in my journal or read my novel. We took time to paddle board, canoe, raft, boat, swim, and fish. We reconnected with each other. We reconnected with nature. It was the calmest, happiest, and most together our little family unit has ever been. It was pure hygge.
And as the days grow shorter, colder, and greyer I am reminded of hygge. I am blessed with the chance to watch nature transform all around me; remaining present and in the moment; taking pleasure in the little things that surround me; and grateful to have a home that is inviting, warm, and cozy. Candles are lit on the dismal grey days as the sultry sounds of Dean Martin and Frank Sinatra caress the tranquil atmosphere; indulging in my decadent latte and focused on my loves – my writing and my designing. And at the end-of-day the peacefulness is gleefully shattered with creative play, which is elicited upon the arrival of my little one home from school. We are happy. We are content. We are in cozy togetherness.
This is hygge.
My Little Blog of Hygge. Published by Crystal Joy Hall