All That is Within our Control
We are only 20 days into the third provincial lockdown, yet it feels like months. Probably because here in TO, life has not changed much since November 23, 2020. We have remained in some variation of lockdown for 22 weeks and counting…
In the past seven days, Ontario has reported 27,215 new COVID-19 cases, making the rolling average 3,887. Of that, 2,937 cases were of the B.1.1.7 variant of concern. As of April 26, 2021 there were 2,336 people hospitalized, with 875 being treated in ICU, and 589 breathing with the assistance of a ventilator. The majority of new cases were reported in Toronto (1,044), Peel Region (673), and York Region (452) as was reported by Sean Davidson, of CTV News. Our frontline workers are exhausted, and our ICUs are pushed to the brink. Yesterday, we saw the arrival of 9 healthcare workers from Newfoundland/Labrador and the federal government has sent in the military to help. What has our provincial government done? They reneged on their promise to legislate paid sick days, and instead, they are offering to 'top up' the payment of the federally-mandated Canada Sickness Recovery Benefit (CSRB), doubling the payment from $500 to $1000 under the condition that the Federal Government continues to offer the CSRB. Wow…
It is news such as this that sobers us all and depletes our hope for an end to this pandemic.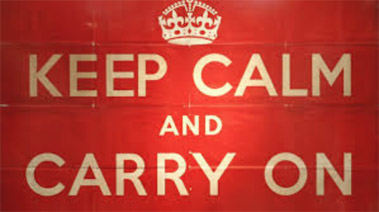 How do we stay motivated? Positive? Grateful? I will be honest, it is getting harder as each day passes. But, it is our duty to ourselves, our children, and our loved ones to find a way through. We need to find ways to keep smiling or, as the British say, to Keep Calm and Carry On. It is what we must to continue to do. We must continue to find ways to stay calm, remain hopeful, and experience joy. For example:

Continue investing in your hobbies. Whether it's reading, gardening, playing an instrument, writing – no matter the hobby – keep it going. Invest in yourself. Give yourself small goals to focus on and take time to enjoy the process.

Get outside for sunshine and fresh air. The natural light, the blue skies, and the open surroundings will lighten your spirits. Also, outdoor activity is healthy and highly recommended by doctors. Go for a walk. Go for a run. Get on your bike. Just get outside.

Call a friend or loved one. We are all getting exhausted from Zoom. So change it up. Pick up your phone and talk the old fashioned way without any screen time. Just sit, close your eyes, and hear the loving voice on the other end of the line. Engage in conversation.

Heed the advice of doctors. Let science lead you through. Wash your hands. Wear your mask when out and about. Stay home as much as possible. Get the vaccine. If you have access to it, and you are eligible, get the vaccine. I am SO grateful to have received my first dose of AstraZeneca six days ago. As a cancer survivor and an at-risk individual, with a young child at home, I was eager to receive the jab. Scared? Yes, a little. But far more frightened of contracting COVID-19 or, worse yet, passing it along to my child who cannot get vaccinated. By protecting myself I am doing all that I can to protect my child. So protect yourself, and by doing so, you can protect your loved ones.
It is all that is within our control.
All That is Within our Control. Published by Crystal Joy Hall