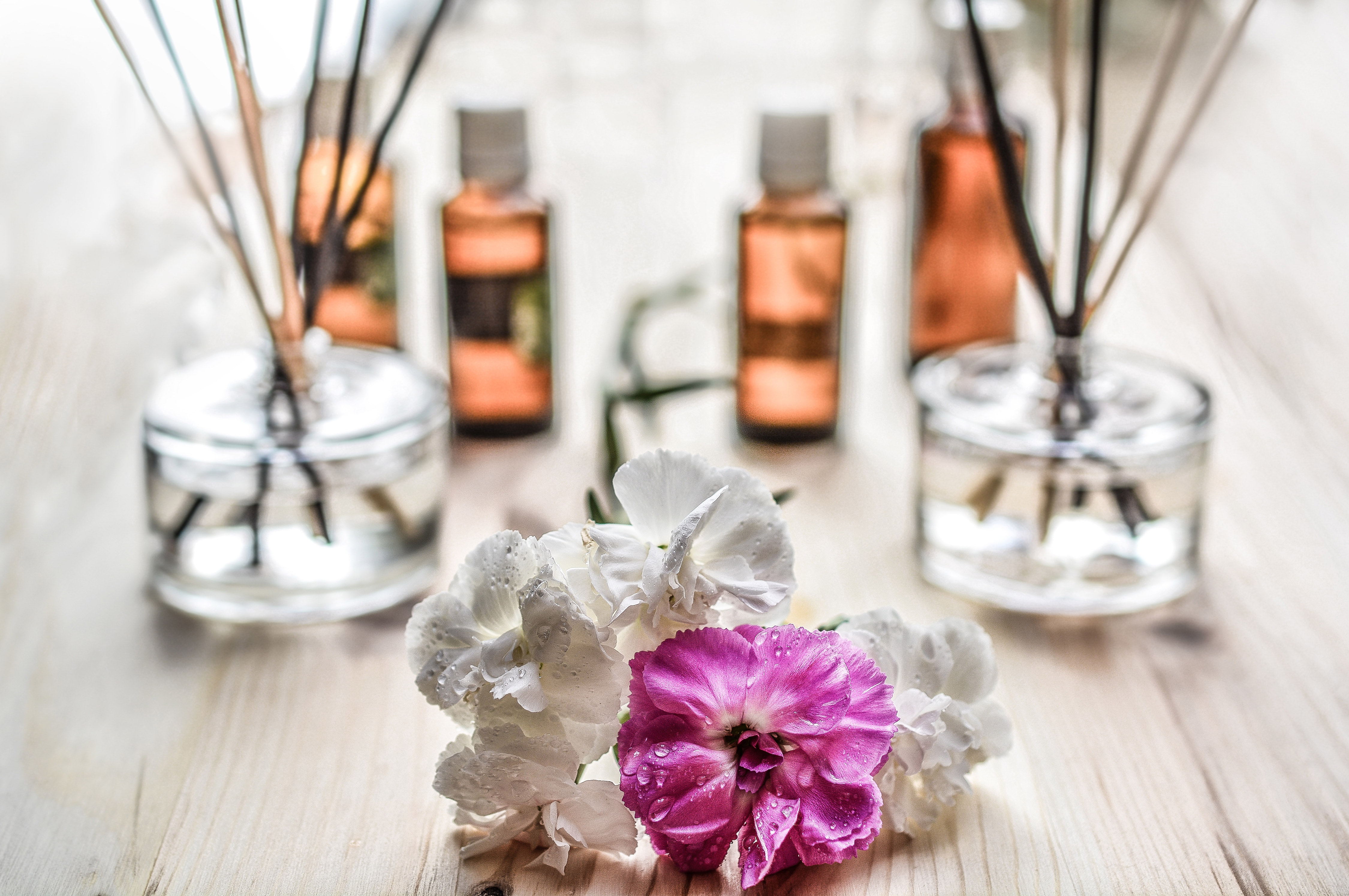 Stumbling in the Realm of Essential Oils
Yes, stumbling. I am in the very, very early discovery stage of the bountiful benefits and uses of essential oils, which is strange for me, because for the past decade I have always prided myself in finding natural remedies for ailments as well as sourcing more natural, healthy, and affordable beauty products. So how have I not learned about or harnessed the power of essential oils until now?
I am cautious. Natural remedies, whether it is herbs or oils, are powerful and if not used correctly can be harmful. My hesitation with oils has been trying to find reputable and reliable resources that I can learn from as well as understanding the basic uses of essential oils and their overall affects – both good and bad. There is so much information on the internet and it can be daunting as well as overwhelming to sift through. My other hesitation has been my uncertainty of where to purchase pure, high-quality oils. There are a few well-known companies that offer high-quality essential oils, but for the ones that I have looked into, I found that the cost commitment fell just outside the perimeters of my family budget. This was discouraging, but I continued to do more research on the internet. I knew I could find a company that offered high-quality, pure, and [for me] affordable essential oils and that is when I stumbled upon Earth Luxe.
I was first introduced to the Earth Luxe line two years ago. My mom gave me a jar of the Earth Luxe 100% PURE Virgin Coconut Oil. I was highly impressed with the product and the multiple uses I have made from it. In fact, after 20 months of usage, my 4oz jar is still half-full!! And I use it regularly!!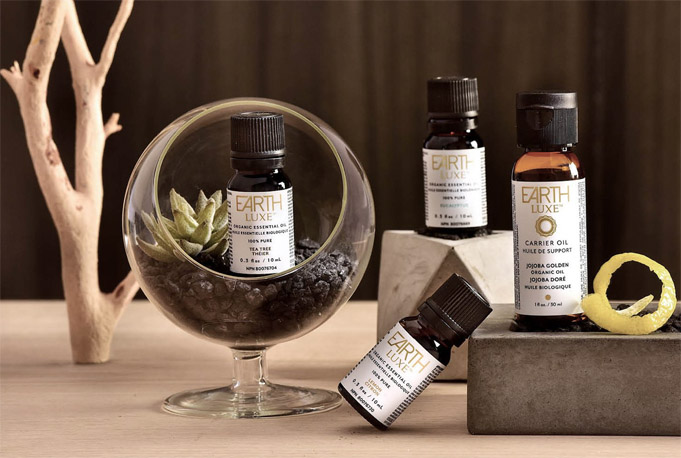 Earth Luxe is a small company that believes in delivering exceptional quality; and promotes a natural approach to wellness, healing, and tranquility. They offer a PURE Essential Oils line for both body – Essential Body Oils, and home – Diffuser Blend Oil Synergy. The prices for these essential oils are reasonable yet the product in my humble opinion is remarkable – pure, potent, powerful. I was very pleased to learn that my favourite Home & Decor store Wind n Willow carries a large array of the Earth Luxe products and diffusers (definitely ensure you purchase a diffuser!). I selected the essential oils I researched, purchased my diffuser, and began using the the Earth Luxe PURE Essential Oil line. It has been 5 months since I introduced this line into my daily routine, and I am very pleased with the overall quality, affordability, and benefits this product line offers. In fact, I am so pleased I thought I would share my personal experience with the Earth Luxe PURE Essential Oils, and how using these oils have benefitted me thus far:
Earth Luxe Eucalyptus Globulus Organic Essential Oil
I am prone to sinus congestion, pain, and sinus headaches. The Eucalyptus Essential Oil offers me pain relief, reduces my stress, and opens my nasal airways – I can breathe. The Earth Luxe PURE Eucalyptus Glubulus Essential Oil can be used topically [applied with a carrier oil] or you can put drops into you diffuser. For the purpose of alleviating my persistent symptoms I actually prefer to use it in my diffuser. Daily use of this essential oil got me through my severe sinus infection with relative ease. In fact, it helped all of us [in this household] this past winter when suffering from the insufferable colds / sinus infections that afflicted us all.
Earth Luxe Roll-On Essential Oil, De-Stress
I am in love with this blend of Lavender, Lemon, Patchouli, Amyris, and Clove Essential Oils. This roll-on oil is safe for topical use (Jojoba Gold oil is already added as the carrier oil) and it offers a natural remedy to stress and anxiety. Lavender, in particular, has a sedative property that induces a calm, peaceful, uplifting, and relaxed feeling. I only recently started using this product. I apply a small amount to my wrists and to the inside of my elbows at bedtime. The gentle aromas induce a serenity that truly calms my over-active, anxious mind. It centres me; and for the first time since my diagnosis I have actually experienced deep, peaceful sleeps that are not fraught with anxious thoughts or restless dreams. I am extremely impressed with the effectiveness and potency of this specific blend.
Earth Luxe Tranquility Synergy Wellness Diffuser Oil
This particular blend of Lavender, Mandarin Orange, Geranium, Marjoram Sweet, and Frankincense Oils is potent! It is meant for the diffuser (do not use topically!) and through trial and error I have learned that I only need to use half of the recommended drops to experience the full benefits. I do not use this blend often – again I find it to be very potent – but when I do use it, the blend of oils provides me with relief from my stress and anxiety, and it creates a harmonious balance within. I actually use this blend when I am creating because it elicits a sense of inner calm, allowing me to focus and hone my thoughts. In fact, I am currently using it as I write!
Earth Luxe Frankincense Organic Essential Oil
This oil is often a hot topic of discussion within my breast cancer support groups – so much so that I am intrigued by it's healing benefits. I began to do some reading and I found an interesting article written by Dr. Josh Axe that outlines 8 Frankincense Essential Oil Uses and Benefits for Healing. It further intrigued me, and I would like to read more about this particular essential oil and the healing powers it posses. It came up for topic yesterday during my physiotherapy treatment. Quite recently I had a chest x-ray because of mild pain and swelling around my rib and xiphoid, an inch below my scar. The x-ray came back clear – YAY – however the mild pain and swelling is still ever-present. My physiotherapist recommended I mix Frankincense with coconut oil and massage it gently into the area to alleviate the pain and swelling. Wow! I immediately called Wind n Willow to purchase a bottle of the Earth Luxe Frankincense Organic Oil. It should arrive to me by the end of the week. I admit that I am anxious to give this powerful oil a try, because conventional medicine gave me an adverse reaction and did not alleviate my symptoms. I will let you all know how this topical treatment works, and whether I find relief (and fingers crossed my re-assessment with my Doctor next week goes well).
Nature is powerful. Nature's bountiful gifts are remarkable. The ability to harness it, respect it, and heal from it is significant. I look forward to learning, understanding, and harnessing the power of essential oils. Should you have any recommendations – books to read and/or articles to share – please comment below.
Stumbling in the Realm of Essential Oils. Published by Crystal Joy Hall